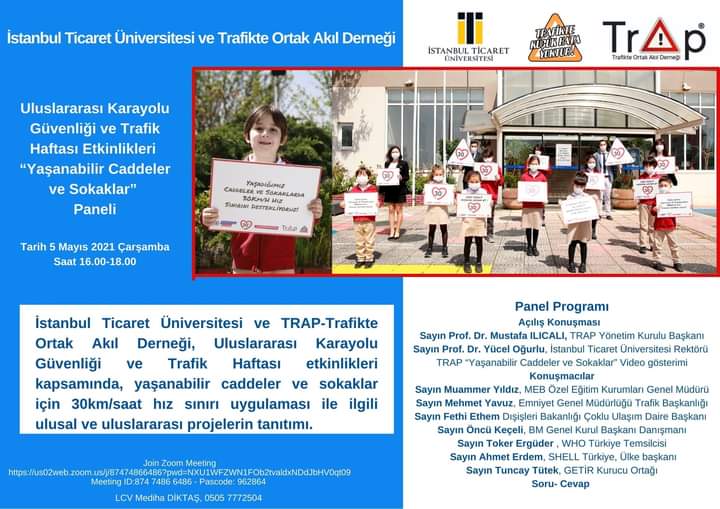 Date: Wednesday, May 5, 2021
Time : 16.00 – 17.00
Subject : National and international projects will be promoted within the scope of the International Road Safety and Traffic Week events of Istanbul Commerce University, TRAP-Common Mind Association in Traffic and the 'No Small Mistakes in Traffic' Project.
Panel Program
Introduction speech :
Prof. Dr. Mustafa ILICALI, Istanbul Commerce University Transportation Systems Application and Research Center Manager and TRAP-Traffic Common Mind Association  Chairman of the Board
Prof. Dr. Yücel OĞURLU, Rector, Istanbul Commerce University
TRAP "Liveable Streets and Streets" Video screening
Speakers:
Mr. Muammer Yıldız
General Director of Private Education Institutions of the Ministry of National Education
Mr. Mehmet Yavuz
Head of Traffic, General Directorate of Security
Mr. Öncü Keçeli
Advisor to the President of the United Nations General Assembly
Mr. Prof. Dr. Toker Ergüder
WHO Turkey Representative
Mr. Ahmet Erdem
SHELL Turkey, Country President
Dear Tuncay TUTEK
GETIR Co-Founder
Q&A section
In this panel hosted by Istanbul Commerce University, Association of Common Mind in Traffic and No Minor Mistakes in Traffic Project, important national and international projects for road traffic safety will be shared. Don't miss the press conference that will be broadcast live on Istanbul Commerce University YouTube channel!
https://www.youtube.com/channel/UCI_OZPDW7SYn_OnD8tl-JQg